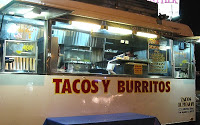 Praise for the Mighty Taco Wagon
Despite what you may hear, San Francisco does not really have good Mexican food. At least not compared with what you can get in Southern California. We have plenty of taquerias, but most are filled with not-warm-enough beans, not-spicy-enough salsa and inappropriate fillings like steamed eggplant and tofu.
There is one saving grace: San Francisco has glorious taco wagons! They are really the only source for authentic Mexican food in the city and the skeezier looking wagons are usually the best of them all.
My favorite for tacos is the wagon that parks outside the climbing gym on Harrison and 19th. Two tiny corn tortillas topped with grilled chicken, spicy salsa verde, chopped onions, cilantro and fresh limes. Heaven!
And, joy of joys, I have just found the best burrito in the city! It was from the taco wagon outside of Best Buy on Harrison and 14th (apparently Harrison is the taco wagon mecca). Smoky shredded chicken, whole pinto beans, diced onions, not too much rice, spicy red salsa, queso fresco and cilantro served up hot. It's a Christmas miracle!