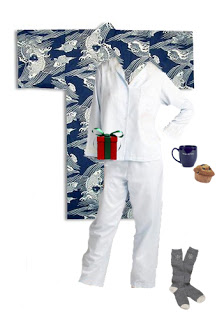 What to Wear: Christmas Morning
Since your outfit will be recorded for posterity forever in family albums, it is worth taking a few minutes to plan what to wear on Christmas morning :
Pajamas – I am a bit of a connoisseur of satin pajamas. The kind with the brushed back are best (more breathable and warm) and white always seems the most elegant.
Kimono Yukata – I love the blue and white graphics of these traditional cotton summer kimonos. I bet you could get them for a great price in Japantown.
Socks – I'm not much for slippers. These gray wool socks with a snowflake design will do the trick instead.
I can't wait! Only five more days to go.