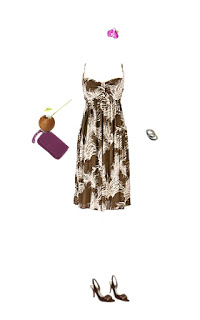 What to Wear: Maui Wedding
Calie wrote in with a great shopping challenge. How do you do "aloha" in a modern way?
I am going to a beach wedding on Maui in May. The invitation states it's aloha attire, which for men means aloha shirts /khakis and for women a sundress of some sort. I have considered getting an aloha print sundress but most of them have bad cuts and look cheap. I'm originally from Hawaii and even when I lived there I never wore aloha dresses because they were too touristy looking.

I'd like a dress that's a bit more modern. I live in SF and have scoured the stores for the right dress and haven't found it. Most of the dresses are too puffy below the chest, or too loud, or even too plain. I want something in between plain and loud that accentuates the figure.
This was a tough one. You want to participate in a theme without making it look like a costume party. I went through a lot of dresses before finally deciding on this outfit:
Dress – Silk jersey with a modern ostrich feather pattern from Anthropologie. Not badly priced at $168. I think you could wear this again to a non-luau event.
Shoes – You'll probably ditch them after the first half hour.
Clutch – Proenza Schouler in purple suede from Target.
Bracelets – A modern variation on a puka shell bracelet.
Flower – A purple orchid for your hair ties in with the clutch.
Have fun in Maui, Calie!