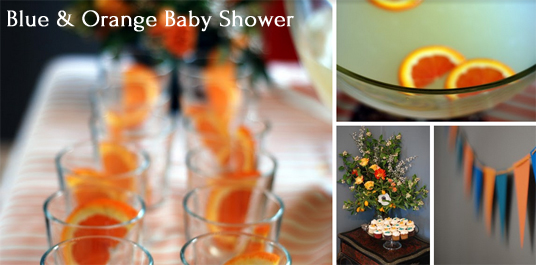 Party Recipe: Blue and Orange Baby Shower
I've thrown almost a dozen baby showers – this was a favorite and extra special! But I didn't actually host it – Jean's friends Jill and Kelly decided on the theme and put together almost everything. Let's dive in:
The guest of honor: My sister, Jean, is due with her first baby at the end of April. That's the co-host, Jill with her. She made the bunting!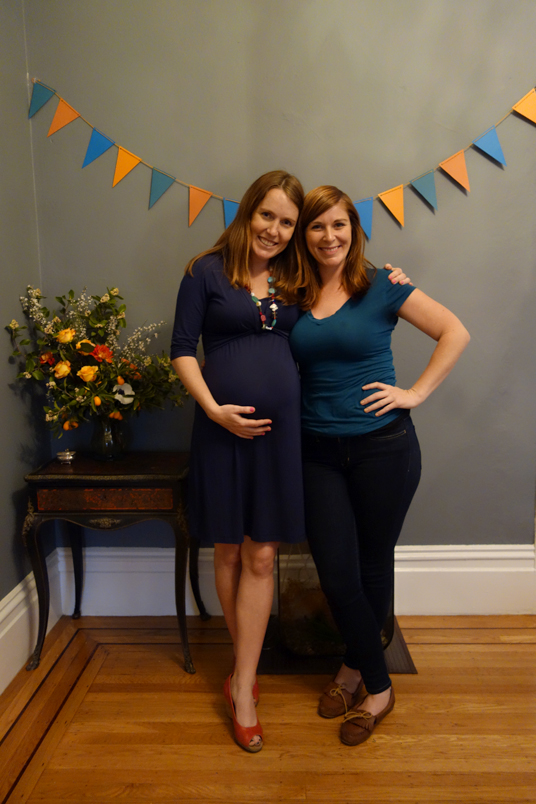 The theme: The hosts decided on a blue and orange theme to welcome the baby boy. We kicked off planning with a Pinterest session for inspiration. I picked up cute tablecloths and napkins from Ikea that happened to match just right.
The flowers: I went to the Wholesale Flower Market the morning before the party and picked up some kind of branches, kumquats, dahlias, roses, poppies and spanish broom. For less than $50 in supplies, it made an incredible amount of arrangements using every blue vase and compote bowl I had available!
The food: Kellie provided an amazing spread. We had chicken taquitos, salsa, guacamole, veggies, hummus, a cheese and meat plate, chips, queso dip, mini cupcakes and cookies.
The drinks: We used my grandmother's punch bowl for lemonade and had champagne on hand to "spike" it.
The guests: 24 women came to the party – which was a challenge to fit in the living room for gift opening, but we made it work with the help of every chair in the apartment:
The activity: Jill had the idea of creating a custom alphabet book for the baby. She set out pieces of heavy art paper, stamps, markers and paint for people to customize with a message:
The necklace: Jean's friend Amanda (who also took a lot of these photos!) had the idea for everyone to bring a bead. She strung the beads together at the end of the party into a necklace Jean can wear as a symbol of our support during labor.
The gifts: One of the most special to Jean was the handwoven baby blanket she had received as a baby from a family friend. So pretty!


The small details: I painted the dining room slate gray and hung new curtains in the living room to prepare for this party. Which was good timing, because they're prominent in almost every photo! Also, I love the small party details of having fresh flowers and candles in the bathroom, and having an arrangement on the obscure "phone-nook" that all old apartments in San Francisco seem to come with.
The end: Congratulations Jean! Big thanks to Jill, Kelly, Margaret and Amanda for all their hard work.