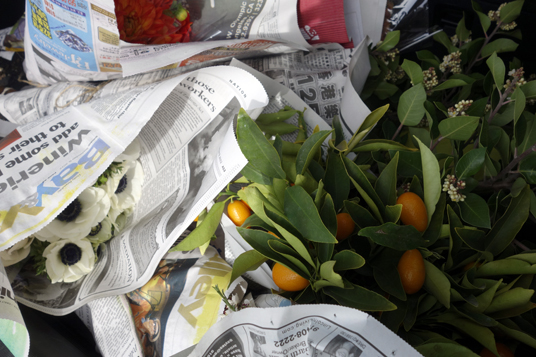 This weekend was packed with fun parties to celebrate my sister and her husband. Each event deserves it's own write up, so stay tuned for detailed party recaps this week.
I had a relaxing Friday night to prepare for the busy weekend ahead. Hot bath and episodes of Weeds on Amazon. Up early on Saturday to clean house and meet up with Margaret. We drove over to the Wholesale Flower Market exactly when it opened to the public and went a little nuts. I bought dahlias, two kinds of roses, spanish brush, some giant branches, kumquats and poppies. Oh, and a couple potted ferns too! Even with overdoing it – I spent less than $50.
Margaret and I returned to the apartment and got the flowers into water (warm water to open up the roses):
Took a break for a late breakfast at the french cafe down the street. It was so usually warm, we were hot out on the shady sidewalk!
All those flowers turned into a HUGE amount of arrangements. I made four giant bouquets, four mid-sized and three sets of small arrangements for around the house. I was about done with the flower work when the hostesses for Jean's baby shower – Jill and Kelly – arrived with their supplies.
Mom, Jean and Trent arrived just a few minutes after them. An amazing baby shower kicked off about an hour after that with 24 guests in attendance. Can't wait to share all the details with you soon!
After the final guests left at 5:00, Mom, Jean, Trent, Rob and I lounged around in between the piles of new baby clothes, exhausted. We had an early Ethiopian dinner down the block and walked home through the crowds out for the Lower Haight Art Walk. Made beds for everyone and called it a night.
Trent woke up at 3:45 the next morning to participate in the Escape from Alcatraz triathlon. Jean and Mom left a few hours later (still very early) to go watch the race and Trent's parents came out to see him as well. I made a bargain to sleep in and read the paper in the morning in exchange for hosting a luncheon for everyone after the race. Rob helped me clean house and set the table. (Do you love the new wall color? So much better!)
We drove over to Civic Center farmer's market at 10:00 for supplies and then to Whole Foods for roast chickens and fancy cheeses. An hour of quick cooking, dicing and roasting in the kitchen.
And with that, we had our second awesome party of the weekend. Noon lunch celebrating Trent's triathlon with nine guests and beautiful flowers leftover from the shower. I love a good Sunday lunch with a massive spread, crisp wine and a lingering dessert. I'll share all the details for this one too!
Packed up leftovers and baby presents – everyone hit the road home around 2:00. Rob took off for a bike ride ad I went back to bed to read the paper with a cup of tea. Even slipped in a short nap!
Quiet afternoon of blogging. Rob returned from his ride and we had a massive picnic dinner with the leftovers.