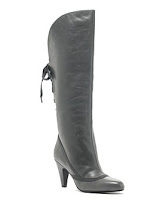 Passport Sale: Feud Boots
We're t-minus 25 days to the my favorite sale of the year: The Macy's Passport Sale. This bay area-only event is held every year in late September. And it's become quite the tradition for my friend Nicole and me. We get an early start, dress comfortably, hit every department and basically spend 8 hours straight inside Macy's. Last year was a big success.
A $10 donation to AIDS research gets you 10-20% off everything in the store; including sale items, designer jeans and things not normally included in discounts. Plus, free snacks and promotions throughout the store.
I need to start compiling a list of things to buy now. First off, a new pair of boots. I love the stacked heel and toe of these grey Steve Maddens. Not so sure about the lacing in the back. What do you think?