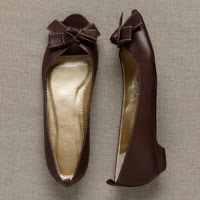 Shopping Challenge: Dressy Brown Flats
Haley, my sister's friend and a fan of the blog, wrote in with a shopping challenge this week:
Being the fashion goddess that you are, I'm writing for your help. I'm looking for a semi-dressy pair of brown flats. I've been looking for something kind of mary-jane-ish, but I'm really having trouble finding anything. Most of the shoes I've found are a little to, shall we say…mature for my taste.
This is a tough one. Dressy flats are hard enough to find…and in brown, yikes! Let's forget the mary jane part already; a strap on a flat usually means instant "cankle." What are some of Haley's options?
Peep-toe flats – These could be a bit matronly, I advise spicing them up with bright coral painted toenails. The tiny heel makes them work with skirts or pants. From J.Crew for $148.
Candy wedge – The micro-wedge is really the greatest shoe height! So comfortable. This shoe is basically the same concept as above but in burgundy patent leather for only $39.
Stella flat – These come in eight fun colors and leopard, I want one of each. They are even better in person. More versatile than dressy, though. $69 from Nordstrom.
Gain flat – Faux crocodile or snake skin with a fun buckle. This would be great with a mod little dress. $79 from Macy's.
Fey flat – An orange bow and stitching really boosts these basic brown flats. On clearance for only $36, so who cares if the orange might not go with everything.
Any of these shoes would be a great addition to a shoe collection. They all work with pants, skirts and jeans. If you Haley wants something a little dressier, I say go for gold instead of brown! This is a great example, as is this and this.