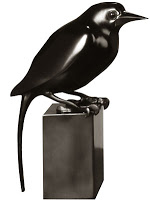 Coveted: Artus Bird Sculpture
When I first saw this statue for sale at The Met store, I thought it was lovely but unnecessary. Besides, isn't the whole bird-mania of 2006 coming to a close? After a few months, my admiration has turned into a minor obsession.
Something about it just says "buy me, put me next to your computer, and I will be your muse." I must be channeling Farley or Poe on this one! Sure, it is $250 and eight inches tall…but I need it!