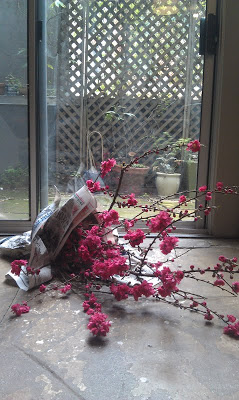 Weekend Roundup: Gung Hay Fat Choy
Whew! This weekend seemed so mild…until I looked at all the photos! To start, I had an event on Friday night for work down in Mountain View and didn't get home until late.
On Saturday morning, Rob and I had a mellow breakfast with coffee, cereal and 30 Rock on TV. He left for a bike ride and I walked to the Flower Market. I walked back with a comically-huge bunch of blossoming branches. Good luck for the belated Lunar New Year celebrations in the city and also so festive for Valentine's Day: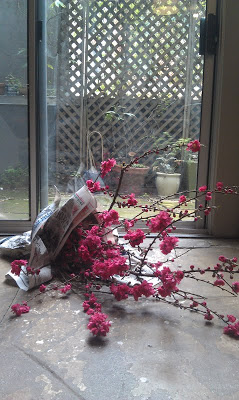 Margaret came over in the afternoon and we worked on Valentine's. I carved a heart character into a linoleum stamp and used these killer markers I bought in Osaka: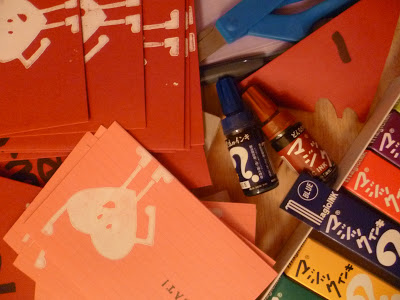 At five, the three of us went for a tasty dim sum dinner at Canton Seafood down the street and then walked to the Chinese New Year parade on Market Street. It's my favorite parade of the year, with so many cute kids in costumes, marching bands, dragons and fireworks.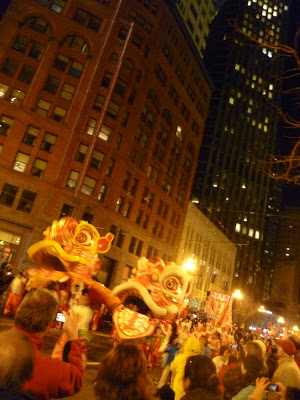 Mini hot fudge sundaes for dessert back at home. I have a terrible addiction to Three Twins ice cream: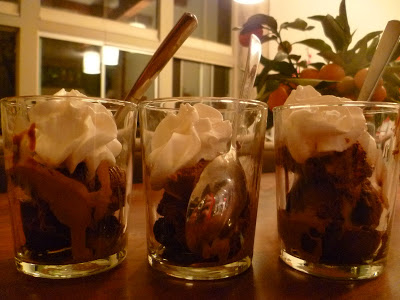 Another mellow morning on Sunday. Rob and I read the paper and cleaned house. At 12:30, we picked up my sister from the airport – she's in town on job interviews. Traditional post-airport stop at Pancho Villa for nachos and aguas frescas. We also swung by farmer's market on the way home: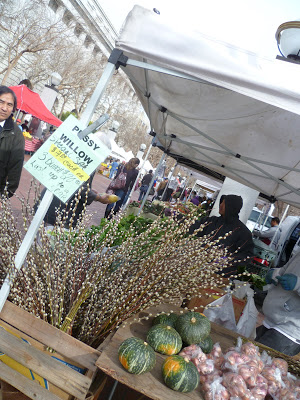 It started to get pretty cold out, but that didn't stop us from getting some exercise. Jean ran while Rob and I rode bikes along the waterfront and all the way to the St. Francis Yacht Club.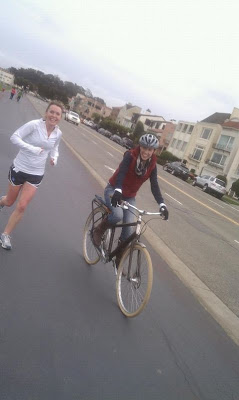 We stopped to share Vietnamese beignets from a food truck before riding/running back home. Just over 8 miles altogether: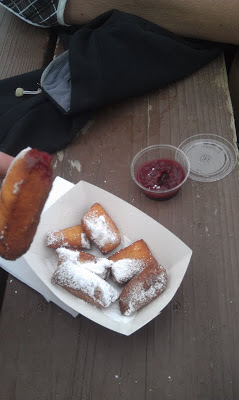 Quick stop at the apartment to freshen up and then we headed out again for dinner with friends. We went to Club Deluxe in the Haight – a darling combination dive bar, neapolitan pizza joint and jazz club. A ukulele and upright bass played while we were there: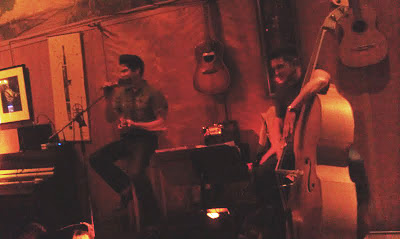 Ben & Jerry's ice cream for dessert across the street and then the bus back home in the rain. We were all pretty exhausted!