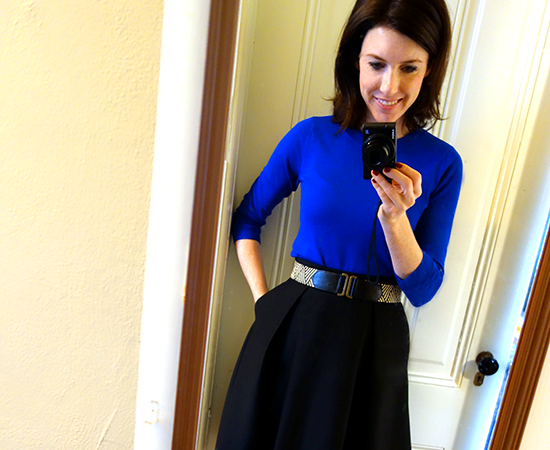 The Perfect Black Midi Skirt for Traveling!
My friend Margaret and I were talking about how hard it is to find the perfect black dress, skirt or pair of pants. It always seems like the harder you look, the more impossible it is to find. You're better off just wait patiently for the universe to decide to grant you the ideal closet staple.
For a year, I've been looking for a perfectly packable midi skirt to take on trips. I was fairly obsessed when we were in Greece and Croatia last year and didn't find anything right. Browsing Bloomingdale's last night – the 25% off Friends & Family sale starts today – I stumbled across the very perfect thing. The best part is that the skirt was on clearance and that, plus the new sale, brought the price down to a ridiculous $15.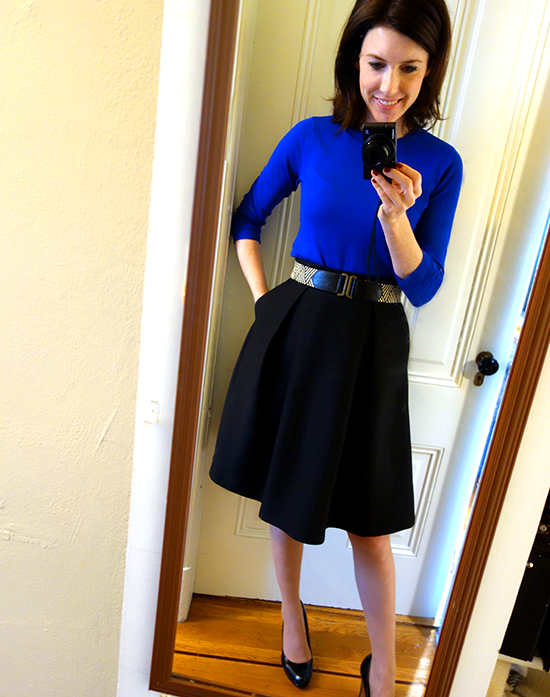 The midi skirt is from Lucy Paris in a slightly stretchy scuba fabric that is impervious to wrinkles. Hidden pockets are a huge bonus. I was hoping the skirt was still online, but it appears only still available in a striped version, which is also pretty.
Today, I paired it with a royal blue sweater, black and white belt and black pumps. I can't wait to wear it in Spain when we're abroad this summer! For inspiration, here are six ways to wear a midi skirt.