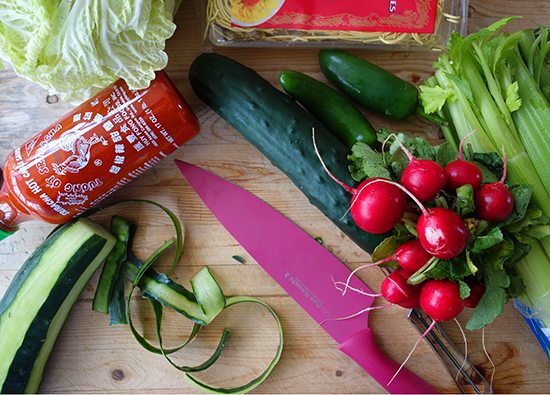 5 Steps for a Chinese-Inspired Picnic at China Camp Village in Marin, CA
Last year, Rob and I were jetlagged in Istanbul for his birthday – his 40th! – and didn't do much to celebrate. So this year, it was time for a huge bike ride and beach party with a bunch of friends. I coordinated with super helpful volunteers from China Camp State Park in Marin to pick the right spot for 30 guests last weekend.
Menu
Shuck-your-own Hog Island oysters
Vegetarian sesame lo mein noodles
Hoisin pulled pork sandwiches with cabbage slaw (inspired by this)
Snacks including sriracha popcorn, wasabi peas, fresh berries
Ginger jasmine green tea lemonade
Local microbrewed beers
Chocolate brownies
Step 1: Shop
On Friday, I purchased Chinese egg noodles, rice vinegar, a massive 11 pound pork loin, celery, popcorn, tofu, jicama brownie mix, beer, jalapenos, sesame seeds, cabbage and cucumbers at Safeway. Already had tahini, sesame oil, sriracha, Soy Vay hoisin sauce, jasmine tea, cocktail sauce, and peanut butter at home. Picked up more cabbage, cilantro, sugar snap peas, carrots, ginger and lemons at farmer's market. Hard to say, but I think I spent about $120 in grocery supplies (including the rolls and oysters we purchased Saturday) to serve 30 people.
Step 2: Prep
First thing was to cut the huge pork loin into three inch chunks and start it cooking on low heat in the hoisin sauce. This would be perfect for a crock-pot (which I don't have) but works just fine on the stovetop in a dutch oven.
Then, on to making a double batch of the sesame noodles with sugar snap peas, carrots, celery, cucumber and jicama. A simple slaw with napa, red and standard cabbage topped with cilantro, salt, sugar, rice vinegar and lemon juice. Cut up fresh ginger and combined it with lemonade and a strong brew of jasmine green tea and put it in a brown glass growler.
Baked two pans of chocolate chip brownies in pie tins. The pork finished cooking about 6 hours after we started and was SO good. I don't think I'll ever make regular pulled pork – the hoisin variety is too delicious. I also made a small portion of hoisin tofu for the vegetarians.
Step 3: Pack
I've amassed a fantastic set of picnic supplies over the years including a set of tin Mottahedeh picnic plates, a picnic basket from my dad and sister, and pretty clear plastic "glassware." The night before, I packed up three tablecloths, cloth napkins, forks, serving spoons, straw placemats, oyster shucking supplies and platters.
Step 4: Last Minute Prep
We loaded up the food, bikes and supplies into the car in the morning and headed out. But first, a quick stop at the Ferry Building farmer's market for 25 seeded challah rolls from Acme Bread and three dozen oysters from Hog Island.
Step 5: Party!
We arrived at China Camp village in San Rafael at 10 am. Riders from Rob's Super Pro team followed us in and everyone geared up for their two hour ride through the park.
My nephew Ev and I waited at the beach for the riders to return. He is currently very into ROCKS! and it seems like we picked up the entire beach. We also walked the pier and visited the volunteer-run museum that shows the history of the shrimp fishing village.
The women riders arrived back first. We started in on the sriracha popcorn, kettlecorn, wasabi peas, potato chips and ginger punch.
We set up the picnic a few minutes before the men riders came back from their trails.
The challah rolls from Acme were so pretty!
This recipe for sesame noodles came out really well too. I'll definitely make it again.
Yum! We all dug in to make picnic plates with the salad and pulled pork sandwiches.
We ended up having just enough food for everyone – I was nervous about it!
Yum!
Once we got started on the buffet, I asked some helpers to shuck oysters. We served them ice cold from the cooler with lemon or cocktail sauce.
Getting too hot to stay in the sun, the party relocated to the shady meadow next to the picnic site to eat the chocolate brownies. The small children orbited us with occasional gifts of ROCKS! and sour grass flowers.
So many ROCKS! from Ev. He was in heaven.
Things started to wind down at 4:00 and we said goodbye to our friends one by one. The kids were the very last to leave the beach as the tide was coming back in.
Happy birthday, Rob!