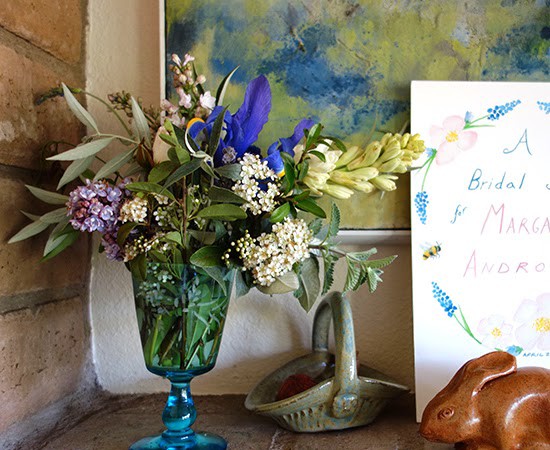 A (Somewhat Gluten-Free) Easter Bridal Tea Party for Margaret
Easter weekend is a lovely time for a bridal shower, especially if you're honoring someone as great as Margaret! Spring is the air, everyone has pretty dresses, out-of-town family are visiting. For this shower, I planned an easy menu with plenty of options for the gluten-free guests.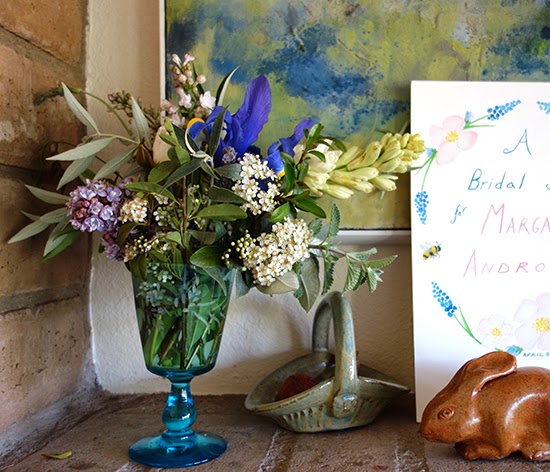 Menu
Tea, lavender lemonade and champagne
Spring crudités
Cucumber feta, smoked salmon and turkey swiss mosaic tea sandwiches
Sea salt brownies
Palmiers
Green tea meringues
Strawberries
French macarons
Lavender berry scones with whipped cream and lemon curd
The Decorations
I brought a bunch of silver down from San Francisco with me, blue and white tablecloths and my grandmother's blue embroidered napkins. The night before the party, I made a simple paper bunting with paper eggs – some speckled with watercolor paint – to hang from the chandelier and mantelpiece.
The Flowers
I purchased fresh white and purple lilacs, tuberose and purple iris. Cut sage, jasmine, tea roses, lavender and greens from my mother's garden to make one large arrangement in a blue ceramic vase and four smaller in my great-grandmother's handblown blue glass goblets.
The Food
To make things easier (we would entertain another 29 guests at my parent's house that weekend),  I purchased all the food we needed at Trader Joe's on Friday. Delicious mini brownies, palmiers and (gluten-free!) green tea meringues made for one lovely platter.
The mosaic-style open face tea sandwiches required the most work. The cucumber sandwiches were made with feta herb spread and pea shoots on white bread. Smoked salmon with caper spread topped hearty nut bread with a small slice of lemon. Turkey and swiss on rye with horseradish mustard. I made a second set of all three kinds of sandwiches on gluten-free bread for the dietary-restricted guests.
The scones were fresh baked using a Trader Joe's mix and added lavender.
Finally, stacked up macarons (also gluten-free!) with fresh strawberries on a tiered stand.
The Drinks
Guests had a choice of hot tea or lavender lemonade with or without chilled champagne.
The Guests 
We had nine people to celebrate Margaret's upcoming wedding. A mix of family and old friends.
Loved the pretty green blouse and floral skirt Margaret picked for her special day!
Is there anything more appealing than a plate of delectable, tiny foods!
The Activity
I'm not much for bridal shower games. Instead, we had the guests decorate wood Easter ornaments for Margaret.
A fun memento for her future Easter decorations!
The Gifts
Margaret received thoughtful presents from the guests, with lots of pretty bows for her rehearsal bouquet.
Little Ev helped deliver the cards to the bride.
A family friend generously passed down her grandmother's Noritake wedding china to Margaret. An amazing gift and something Margaret will surely treasure!
The Guestbook
Lastly, we had everyone sign a small watercolor painting I made for Margaret to commemorate the occasion.
It was fun to make and should be a special addition to her wedding album.