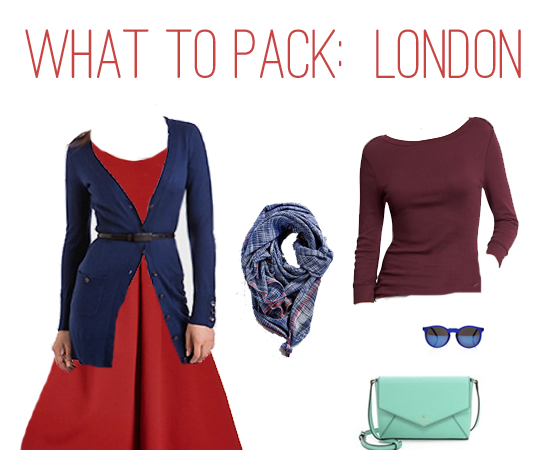 What to Pack: 6 Weeks in London
Renée is wrote in asking for help with packing for a trip to London for a six weeks with her husband and kids:
I adore your What to Wear posts, and I'm hoping you might be able to help me pick a "uniform" for an upcoming extended trip to London. I'll be spending six weeks there in May and June — my husband is teaching a university course and I'm taking a six-week leave from work so I can go with him. We'll be staying in a flat right on Trafalgar Square, hooray! I plan to spend my days sightseeing, checking out all the outdoor markets, and taking my three kids (ages 6, 4, and 2) to playgrounds and parks. A cross-body bag and comfortable walking shoes are a must. Also, I love love interesting/unexpected color combinations (like Boden does so well). Any suggestions for a casual but pulled-together outfit that will work for an about-town 40-year-old mom from the U.S.?
My favorite colors are the bold ones: jewel tones and navy, red, etc. I don't like or look good in pastels. I'm athletic and in good shape, but am pear-shaped so I tend to favor darker pants and jeans over lighter ones, though if they're a flattering cut I can get away with light grey grey, khaki, etc. I love dresses and skirts too so long as they flatter a pear shape.
I've traveled quite a bit in Europe but never to London, so I have no idea how people dress there. I'd love your suggestions!
The weather in London in the spring and early summer is kind of like San Francisco's – temps are in the low 60's with colder nights. Sounds like layers will be key. Usually, I recommend packing light and picking up new things while you're traveling but with kids in tow and the exchange rate still not amazing, you're better purchasing most of what you'll need in the US. To save space in your luggage (so you can bring back more tins of shortbread), pick a single color scheme where everything will mix and match easily: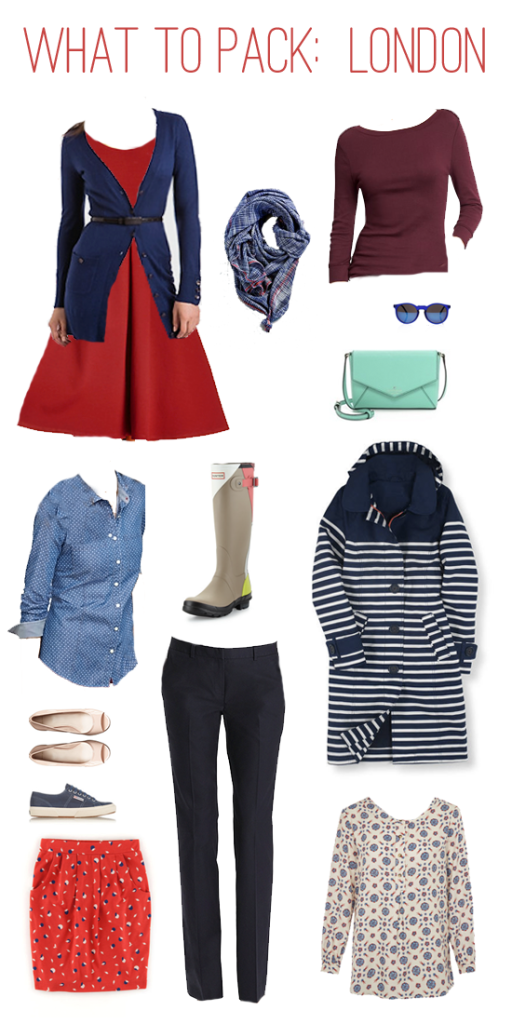 Coat –
Your raincoat will likely be in a LOT of photos during your trip. This
breton striped rain jacket
from Boden will look cute and is fairly lightweight.
Dress
– A basic,
$64 midi dress
that is ready to be layered like crazy. The tank cut means you can easily top it with sweaters and/or add layers underneath.
Shirt – Pindots add a bit of extra style to this classic chambray shirt. You can wear it under or over the dress and with the pants or skirt.
Tee –
A couple
tees
in different shades of red, gray and blue to mix and match. This particular raisin color would look nice under the dress, with a belt on top.
Blouse
– Maybe splurge on a
Liberty of London
blouse while you're there.
Scarf –
Another fun item to pick up when you're traveling. This
blue and red scarf
is from Urban Outfitters.
Sneakers
-A pair of
slightly-fancier sneakers
will blend right in with "continental" styles.
Pants –
A pair of your
favorite navy pants
, a bit on the fancier side with a trim cut that can also work when rolled up with sneakers.
Wedges – Cole Haan's Nike Air wedges
are the most flexible shoes you can take traveling. They look a bit fancy and are comfortable enough to wear eight hours at a museum.
Boots
– A pair of
fancy wellies
would be a fun souvenir from your trip and really nice to have on hand while you're there.
Purse –
A
mint green cross-over bag
from Kate Spade adds a nice bright dash of color to the combos.
Sunglasses
– A cute bright
blue pair of sunglasses
from Forever 21.
Also: Pack a set of opaque navy blue tights for when it's cold, a couple more flexible sweaters and tops for layering, a workout outfit in case you want to be sporty, a pair of go-with-everything jeans, socks, a couple belts and other accessories to mix and match.
Bonus: the EmilyStyle guide to London from our trip a few years ago!