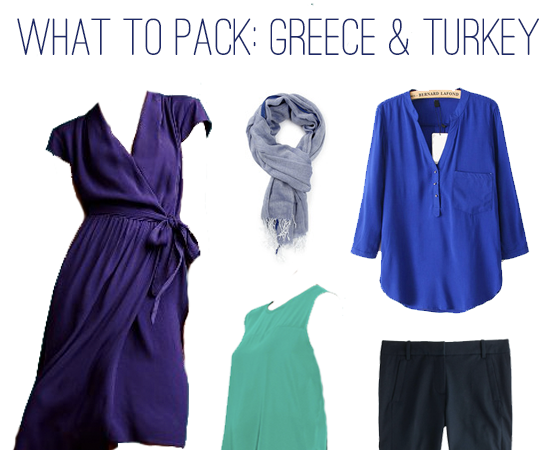 What to Pack: 2 Weeks in Greece and Turkey, Plus a Work Conference
Researching this post made me so nostalgic for our month in Greece last year that I had to run out to get a lamb gyro for lunch!
Shannon from Madison, Wisconsin is headed off for a two week vacation in Greece and Turkey this summer. Crystal blue water, whitewashed beach villas, meze platters galore…and a business conference to boot. She asked for help packing a professional and resort wardrobe into a single carry-on:
I have long appreciated your blog but now have an extra reason to love it. My husband and I are heading to Istanbul and Greece (Athens, Meteora, and Skopelos) this summer for a two week stay and just booked the same Airbnb apartment you recommended. Thank you! It was nice to take some of the guesswork (and tedium) out of the planning. Plus, it's given me a new excitement for the trip.
If you're up for the challenge, I saw the recent "What to Wear" post you did for Renee as she's heading to London and I, too, have a travel wardrobe conundrum as I embark upon this trip. It's likely going to be very hot in Greece and Turkey. I will be doing a significant amount of sightseeing (read: walking) with a 2.5 day work conference (with a presentation) in the mix. I would like to pack in one weekender bag for the two week trip as I foresee it will be easier to schlep over cobblestone streets than a roller suitcase.
Can you give me some good recommendations that will be able to work double-duty for me as a tourist and professional? (And some cute, comfy shoes to boot!) I am 5'6″, average build although not lacking in the strong legs category, and with brunette hair, blue eyes, and fair skin, look best in jewel tones rather than pastels.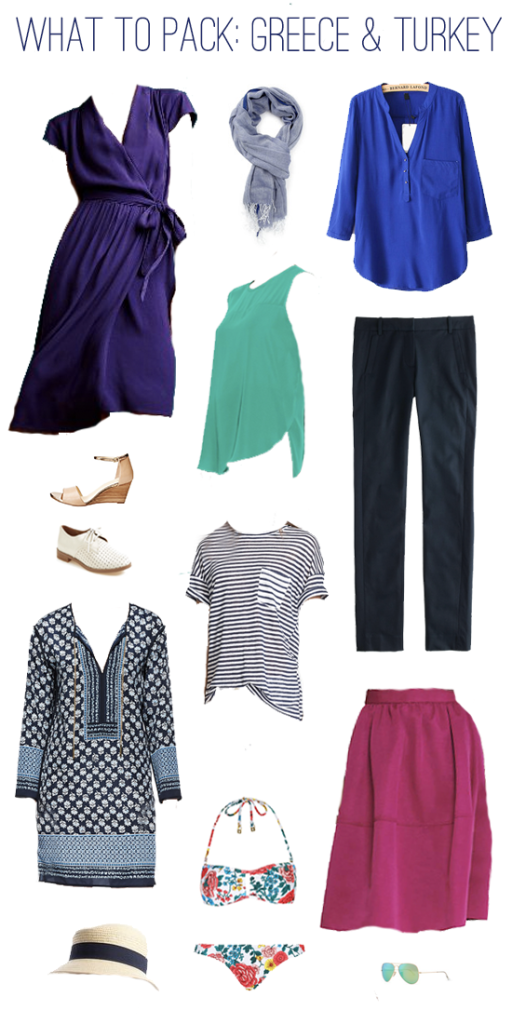 Dress – How perfect is this purple Anthropologie wrap dress? Fancy enough for conference, light enough for vacationing, machine washable, grecian pleating…it's even on sale!
Scarf – You'll have plenty of opportunity to buy delicate textiles in Greece and Turkey. Scarves are helpful for entering churches and having picnics on the beach. This Forever 21 version is a good proxy.
Shirts – These kinds of floaty "chiffon" tops are great for traveling. They don't wrinkle, work well layered and are easily washed in a sink and air dried overnight. This emerald green top and royal blue blouse are fancy enough to wear with trousers or a skirt at the conference or with shorts when you're on vacation.
Pants – Trim navy pants from J Crew are fancy enough for the conference with a blouse and casual enough for a dinner at night on the Acropolis steps.
Sandals – Some conferences are weird about open toe shoes – but this pair of Cole Haan wedge sandals seems like they would be a safe enough choice. Plus, they'd look like two different pairs of shoes when the ankle strap is hidden by pants.
Oxfords – A pair of broken-in oxfords can be as comfy as sneakers but much more stylish. Wear this ivory pair along with the trousers or midi skirt. Being able to wear socks is nice for big city walk days.
Tunic – Wear this lightweight Michael Kors tunic with leggings in Turkey (it isn't required, but I felt more comfortable a bit covered up in Istanbul with all those mosques) and as a beach coverup in Greece. Maybe even over the trousers if the cut is just right.
Tee – A loose, nautical top will look right at home on the Aegean coast.
Skirt – A breezy, bright midi skirt is another piece that works both at the conference and on your travels.
Bikini – This floral two piece from TopShop is bright and pretty.
Hat – A packable sunhat is easy to purchase over there if you don't have one yet.
Sunglasses – Mirrored aviators will look stylish on the beach.
Not pictured: A trusty light maxi dress for layering, a couple basic t-shirts and tanks, a couple belts, one workout outfit, a pair of sneakers, jewelry to fancy-up the conference outfits one sweater or jacket in case it gets cold (and to wear on the plane).
Don't pack: Jeans will be too hot and too heavy for your trip.