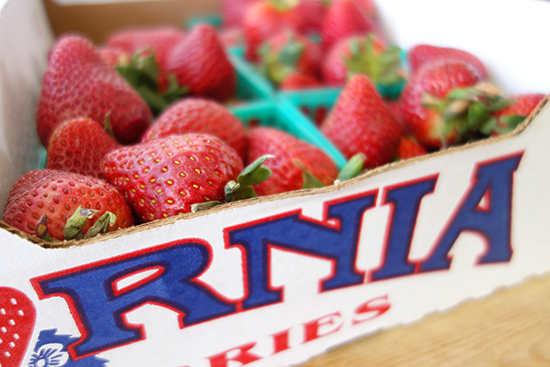 A Casual Monday 5-Step Dinner Party Featuring Strawberries
I love an impromptu dinner party! Lauren emailed in the morning to see what plans we had for Monday night. With a fridge packed with fresh produce from last week and a flat of fresh strawberries ripening on the counter – I invited her over for a casual Monday night dinner party.
A Simple Strawberry Menu
Chicken, quinoa and snap pea soup
Grilled radish and strawberry salad
Asparagus and blue cheese savory bread pudding (based on this recipe)
Minted strawberries with angel food cake and whipped cream
Step 1: Shop
Or…actually, not shop. I had so much food in the fridge that my challenge was to make the whole menu from things we already had on hand. Fresh radishes, snap peas, lettuce, mint, lemons, green onions, cucumber, yellow onions and asparagus from farmer's market last week. A small piece of blue goat cheese, a few slices of rosemary meyer lemon bread from last week's party, leftover rice and quinoa from a Chinese food takeout dinner. And, I was making a fresh batch of chicken stock already on the stove.
Step 2: Prep
Savory bread pudding is my favorite brunch dish because it is so easy to assemble in advance and bake at the last minute. I cubed the leftover rosemary lemon bread and threw that in a small baking dish. Cut up some asparagus tips and yellow onion and quickly cooked the mix with a bit of butter in a pan. The lightly cooked asparagus mixture went in to the baking dish with the bread cubes. Cut the blue cheese into tiny pieces. Topped the bread mix with the cheese and some green onion. Covered with foil and into the fridge for later. In a small dish, I made the egg + milk mix with salt and pepper and put that in the fridge too.
Step 3: Decorate
I set the table for three people with blue straw placemats, red napkins, my blue wedding china. Quick centerpiece of strawberries on a wood tiered cake server.
Then, it was time to dash off to an afternoon of meetings! I returned home at 6:00 and Lauren was coming over at 6:45.
Step 4: Last Minute Prep
Preheated the oven for the bread pudding first thing. Then, I prepped the salad by cutting and grilling some radishes and chopping snap peas, strawberries and cucumber. Lauren arrived to help prep the dessert and to make a meyer lemon + truffle mustard vinaigrette for the salad.
To make the soup, I spooned out a couple cups of chicken stock straight from the pan where it was cooking. Added a bit of leftover quinoa rice, a few thin slices of snap pea, a little salt and fresh garlic.
Step 5: Party!
Soup course first, in small miso soup bowls topped with green onion. The bread pudding went into the oven to bake for 20 minutes right before everyone sat down.
While the soup bowls were being cleared, I took the foil off the bread pudding to give the top a good brown and tossed the salad with the vinaigrette. I was nervous about the bread pudding since I didn't really measure anything and haven't made it with blue cheese before – but it came out deliciously.
The truffle mustard and lemon juice were a nice complement to the grilled radishes in the salad. A pretty combination of spring flavors!
The three of us finished all the bread pudding and all the salad along with a really nice bottle of red wine that a guest brought to last week's party. I made a pot of chamomile tea to give us a breather before dessert. The straw animals are part of my easter decorations, accumulated from my mom over the years.
Lauren's strawberry shortcake recipe came out perfectly. She tossed the fresh strawberries with lemon zest, fresh mint and sugar before dinner. Then made a batch of vanilla whipped cream during the tea break and served it up with massive slices of angel food cake.
A successful and easy dinner party for a last-minute Monday night! I think only Lauren's dog Maddie left dissatisfied – she wished we had served steak!