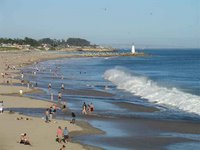 Weekend Round-Up: Santa Cruz
Hooray for being a weekender! On Friday afternoon, Jean and Trent picked us up and drove from the heat of San Francisco to the fog of Santa Cruz. Our family rented a beach house for the weekend to celebrate my mom's birthday. Within minutes of arriving we had blanketed the place in New Yorker magazines and triscuits, the family's method of marking territory.
Our particular vacation rental came with a 40-page instruction manual, an all-cherub-and-potpourri decor and a laundry list of restrictions. We joked that we should set an extra place at the table for "the deposit" since it would be our constant companion for the weekend. Lighting the wood stove, allowing in boisterous children, sitting on the arms of the sofa or having nail polish on the premises were all potential violations that would revoke "the deposit." The beds even had plastic covers on the mattress and the pillowcases! Despite all this, it really was in a lovely location and quite cozy.
On Saturday we had a slow morning of figuring out how to use the coffee maker, working crossword puzzles and cooking a big breakfast. Dad headed off to the marina to look at boats and the rest of us walked over to the boardwalk. After watching some speedo-clad South Americans playing footvolley, we rode the Giant Dipper, ate kettlecorn and drove bumper cars. We had lunch at a brewery and went down to the beach to catch the sun that had just come out. Instead of getting an all-over-glow, I managed to get sunburns on my neck and my bum. Not exactly mission accomplished! We had dinner on the pier and a round of Scattegories before turning in.
Another leisurely morning on Sunday. Dad and I packed off to the marina and everyone else went to the beach. We took the free water taxi up and down the harbor a few times before spotting an ideal sailboat. We worked up quite an appetite with all that hunting and had a seafood lunch at Aldos. A few hours of napping and relaxing back at the cottage with everyone before dinner on the patio of the Crow's Nest. Thoroughly stuffed and sunburned, we drove back to the city late last night.