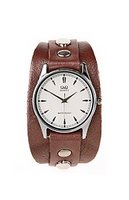 Sale Alert: Anthropologie
Most of Anthropologie's clothes fall into one of two categories. a) Look at how lovely this $300 shirt is or b) I would rather throw myself under a bus than wear this. Fortunately, their accessories and home items have a third category. c) awesome.
Once in a blue moon, an item fits in to category c. I think I found it on sale today: leather watches. These used to be $90 and they are selling for $20. Lots of cute colors!