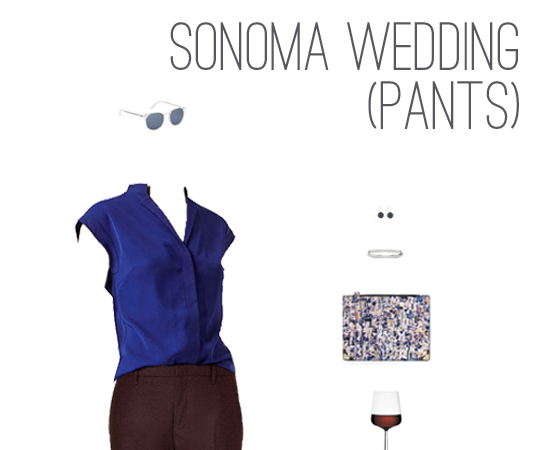 What to Wear: Spring Wedding in Sonoma
Wedding season is almost here! Those save-the-date cards are arriving in mailboxes and creating wardrobe havoc all across the country. Weddings can be so tough to dress for: no black, no white, no red. If you want to wear pants instead of defaulting to a dress, it is even harder. Catherine wrote in recently with a request for a wedding up in wine country:
I am attending a wedding in Sonoma in early May. The wedding is at 4 and it is outside so sure to be chilly. I am at a complete loss for what to wear, for me or my boyfriend. I am 51 so need something not too young. I am also most comfortable in pants and not very high heels.
I don't know much about the wedding except it is at an event venue that overlooks a vineyard. A big old house, but the wedding is outside in a tent. It seems like it is a fairly traditional wedding based on her dress I saw. I wear lots of black, not much brown, and do better in more muted colors. Things like teal, eggplant, more muted reds like raspberry.
I have worked for years in healthcare admin and have been a more classic, traditional dresser but last year I threw caution to the wind and am a full time student in culinary school and am looking to start a business later in the year. I finally feel like I can express a little more flair and style than I usually do. If I could spend like $500 for the ensemble with some parts I could get use out of that would be good. If that isn't realistic just go for what seems right. I don't clothes shop much so I'm not sure the usual prices.
I am olive skin, green eyes and blondish hair with silver streaks. I would love some advice!
First off, I already like Catherine so much from these few short paragraphs. She's in culinary school?! She has green eyes and flaxen hair?! Catherine sounds AWESOME and I'm excited to help her find something to wear.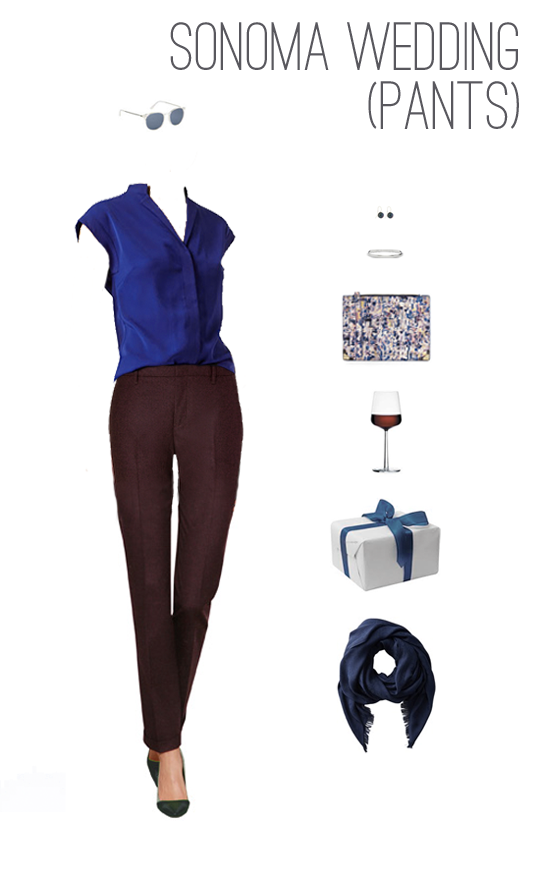 Top
– I just discovered this UK brand, Reiss, and think it is so perfect for Catherine. This
pretty blue top
is on sale for $110. While it looks like silk, it is a far more practical, washable fabric.
Trousers – I've never in my life spent $400 on a pair of pants, but I would be super tempted to with these trim Jil Sander wool trousers in eggplant. They're half off and still ridiculously expensive, but I have a similar pair in teal from Philip Lim that I wear all the time. True power pants! You could pair them with a simple navy sweater or white blouse for future culinary business meetings. Here are several other choices that are more affordable but not quiet as amazing.
Shoes – Low-heeled navy suede pumps are on major sale for only $45 at Neiman Marcus. At that price, you don't have to be too worried about a little grass or mud getting on them. Definitely shoes you can wear again for future business. Wedges are a bit more maneuverable on grass, but I don't personally like how they look worn with trousers.
Jewelry – Catharine probably has her own silver jewelry stash to tap into. Just in case, this Kate Spade bangle is $30 and these black pearl earrings are $50.
Clutch – A small wristlet for $40 at Neiman Marcus ties together the color scheme and has room for your business cards (always be networking!).
Sunglasses – My obsession with elegant silver haired women wearing clear frame sunglasses continues unabashed. These are $26 from Topshop.
Pashmina – Sonoma should be in the mid 70's during the day and in the mid 40's at night in May – and since there's a tent, she shouldn't need to worry too much about the cold. A cozy $40 navy wrap to keep warm if the temperatures drop.
Boyfriend – No man ever got in trouble for wearing a nice navy or gray suit to a wedding. Drop the tie to keep it "Sonoma style."