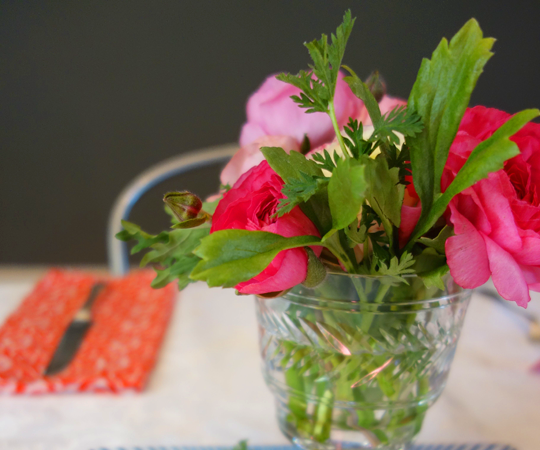 A Valentine's Day + Chinese New Year's Luncheon Fresh from Farmer's Market
The second week of February is a really good one in San Francisco. Not only do we have Valentine's Day but the city is also bustling with Chinese New Year celebrations and there's usually a heat-wave around this time that makes it feel so summery.
I hosted a luncheon last Saturday for a group of nine family and old family friends. The theme was a mix of Valentine's Day and Chinese New Year and we were honoring Lily – the star of a four part documentary series distributed by my parent's film company.
Luncheon Menu
Chilled iced tea and white wine
Rosemary roast chickens with potatoes
Local aged goat's milk, cheddar and blue cheeses
Pain epi and cranberry walnut bread
Truffle and stout mustards
Green salad with truffle vinaigrette
Angel food cake with strawberries and whipped cream
Step 1: Shop
Mom and I woke up early on Saturday morning to make it to the Ferry Building farmer's market right when it opened. We bought everything for the party that morning. Three rosemary rotisserie chickens from Roli Roti with potatoes cooked in the drippings. Fancy mixed salad greens, local cheeses, meyer lemons, flowers, radishes and loaves of freshly baked bread. About $120 for everything – not bad considering this was a party for nine ($13/person) and we shopped at the fanciest farmer's market in San Francisco. We took a taxi home with our loot.
Step 2: Decorate
An extra leaf on the table was pulled out. The ranunculus went into my Grandmother's cut crystal glasses with the only greenery I had on hand: kale!
I put out my "auspicious" lunar new year ornaments on a side table and we put quarters into red envelopes to serve as place cards and bring us good luck for the year of the ram.
My friend Amy gave me these adorable Chinese foo dog salt and pepper shakers that were just right for the occasion.
I hung the same paper hearts chandelier decorations from last Valentine's Day and Mom helped me set the table with red napkins.
The red side cabinet (Ikea!) looks so festive for this party. Now that the decorations were done, it was time to start prepping the food.
Step 3: Prep
This menu took virtually no effort. I sliced the cranberry walnut bread into thin pieces.
Arranged the delicious local cheeses on a board.
Made two bowls of bright garden salad with all the fancy greens, edible flowers and radishes from the market. Mixed up some vinaigrette with olive oil, lemon juice, truffle mustard, vinegar, garlic, salt and pepper and set it to the side to be tossed in at the last minute.
Set out some mustards, put the drinks on ice and we were ready to relax before the guests arrived. I left the chickens all wrapped up to keep warm until the last minute.
Step 4: Welcome!
A few minutes to change and check that the bathroom was cleaned up before Jean and Trent arrived with the dessert. My Mom and sister look so much alike!
We had a half hour to relax in the living room and watch Ev play.
The guests of honor arrived on schedule: Lily with her mother from Bolinas and a talented cartoonist, Mitch Rose, who has been a friend of the family's for years. Lily has the most impeccable manners – I wish I were half as effortless gracious as she is.
Step 5: Eat!
I turned the kitchen counter into a buffet with all the good food from farmer's market and we invited everyone to help themselves.
The rosemary rotisserie chicken was juicy and warm and so tasty with a dab of truffle mustard.
Jean loves a pretty salad that includes edible flowers.
Ev dug right in with the rest of us – very well behaved for almost two years old!
Good food, good conversation, a great reason to celebrate – the perfect combination for an easy luncheon! We wrapped up the meal with a round of fresh coffee, angel food cake, strawberries and fresh whipped cream. Congratulations Lily on the upcoming release of your fourth film! And "gung hay fat choy" to everyone for the lucky year ahead!