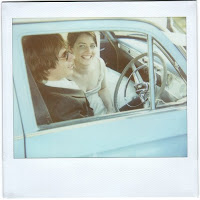 Wedding Wednesday: Inspired
Proving once again that Austrailian's have the best wedding style, I found this lovely album on Flickr last night. Jess and Nathan were married outside of Melbourne in 2005.
Here are some details in particular to love:
Converse sneakers on the gents
Polaroid photos
Bride arrives in an Australian postal van, as she always dreamed
Simple wings on the flower girl all dressed in white
Cool vintage car
No fuss hair and makeup
Basic daisy bouquets and no boutteniers
Photos in the deep grass by the ocean
Just exactly right. Not too perfect. Very authentic. Click here to see all the photos.