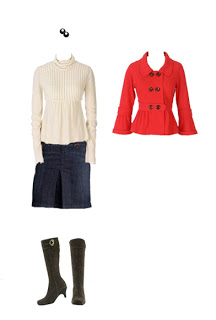 Boots! I love them, wish I had more of them to wear everyday. Here is Wendy's request:
I just broke down and "invested" in a gorgeous pair of grey winter boots. They work with a few things I have (jeans, black skirts) but I'm looking for other ideas on how to get mileage out of them (i.e. I want to wear them everyday!) Any ideas? Gray was tricker than I realized!
What a cute pair! Is there anything you couldn't wear them with? Here's one idea:
Boots – In charcoal suede.
Sweater – My friend Margaret works at Anthropologie and has this in black.
Skirt – A dark denim pencil skirt is always versatile.
Jacket – Super pretty and only $88.
Earrings – Wood hoops from Forever 21.
I'm jealous, Wendy! Rock those boots with style for me.