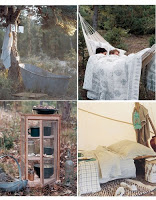 Wedding Wednesday: Road Trip
The fact that I'm planning for a 100 person wedding and a three week vacation just hit me last weekend. That's a long time away from home! Time to start thinking about the essentials we need to take along:
Tent – We'll be camping on and off between fancy hotels. Rob bought a new tent that is light and airy for the hot places we're staying.
Camping basics – Rob is in charge of bringing the stove, pots, sleeping bags, sleeping pads, backpacks, lanterns, headlamps and mini cooler.
Art supplies – I need a new journal for trip, watercolors, colored pencils, glue sticks and good paper.
Clothes – My "dowry" is shaping up nicely. I have a new sundress, two shirts, a linen jacket, a sun hat and all the new lingerie from France. I could use some new light tops and sandals.
Technology – We have a new tiny laptop that will come with us. The proper maps need to be loaded on the GPS. I'll bring my digital camera and the new mini tripod Jean gave us.
Entertainment – A pack of cards, some books on tape and a ukulele. I need buy a new iPod to load up with songs for the car. A portable radio could be a fun thing to have too. Books about the American West.
Vintage – Since we're driving, I can take our vintage suitcases from the engagement shoot instead of my cruddy airline suitcase. I'd love to be able to do a full bed and canvas tent like in the photo but it isn't realistic. Instead, I'll be packing light and planning on buying loads of antiques and Native American art along the way.