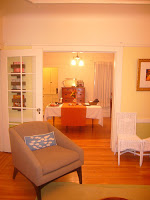 Last night was so fun! I left the office early and was hit by a flash of Martha-inspiration to "haunt" the house. Using black construction paper, I made masks or mustaches for all the portraits in the house. I replaced all our books on display with "scary" titles. Spooked up the bathroom, the front door, etc. The place looked so cute by the time guests were arriving.

The wine-soaked cheese was a big hit, as was Frankenstein-chili with choice of 10 toppings. A couple people said that chili and cornbread was a Halloween tradition in their families, how fun! We finished it off with caramel apples and a really good carrot cake from Trader Joe's.

We gave out coke-bottle glasses from Target as favors and for excellent photo opportunities. You can see all my photos from the party online here.