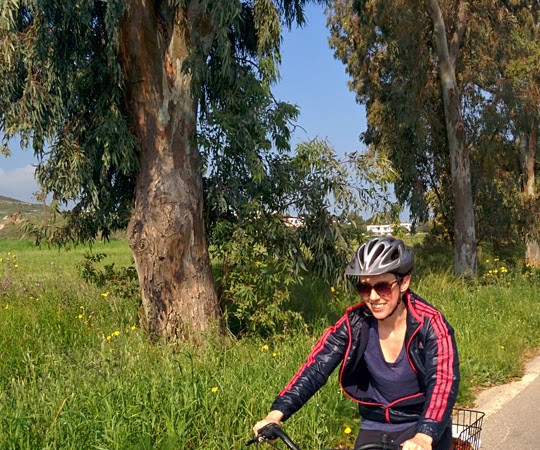 Soaking in the Healing (and Tanning) Waters of Therma Beach in Kos, Greece
Most of the storm has blown over Kos today, so Rob and I took our rental bikes out for an adventure that should appeal to my fan club from the Cuesta College Aqua Aerobics Class.
Heading south from Kos Town, we followed the very nice bike paths along the water. A brochure here calls Kos "the island of Hippocrates and bicycling." Seven miles around, almost to where the road runs out, we pulled off at a tiny cafe and locked up our bikes.
Welcome to Therma Beach! These hot spring were discovered by the Italian archeologist Laourentsi in 1934. The hot water runs straight down to the ocean, where a pool is carved out for soaking.
When we arrived, there was just one Russian couple getting ready to leave.
Rob and I soaked in the water for over an hour as cool waves splashed over the rocky barrier. We had the pool to ourselves the whole time. The hot spring contains potassium, sodium, magnesium, sulfur and chlorine that are "ideal for rheumatism, arthritis" and many other ailments. The smell isn't as sulfur-y as the hot springs I'm used to in California. That's the Turkish coast you can just barely see on the horizon.
Our apartment host warned us to leave jewelry at home and that the water would stain any light colored clothes. He didn't mention that it would actually stain us! As super pale San Franciscans, the orange tint was a great bonus. The best spray-tan I've ever had!
A few people arrived while we were enjoying a picnic lunch on the rocks. If it is this busy when Kos is deserted by tourists, it must get really crazy in summer.
We changed back into our clothes and hiked back out from the beach.
We rode back home admiring the many goats with their kids running loose along the rocky cliffs.