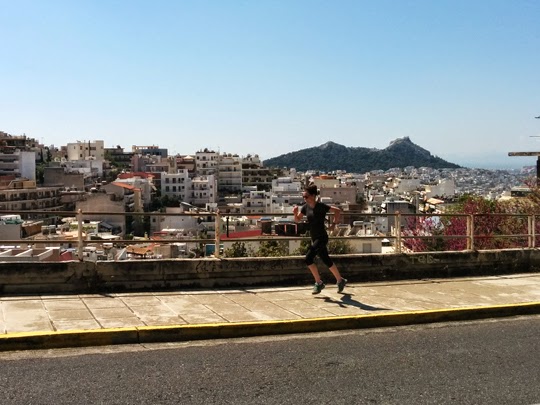 Running to Attica Woods in the Hills of Athens, Greece
I had an extra amount of work to take care of this morning. We decided to do something low key with our late start in Athens. Rob and I went for a run from our neighborhood, up through steep hills and urban staircases that look straight out of San Francisco. Everyday city life here seems remarkably similar to Greek island village life. Instead of a small white cottage with a garden and a cow, in Athens you have a small white apartment with a balcony garden and a dog. The fragrant orange trees and sidewalk "tavernas" seem the same.
Do I look like a fast runner? I'm definitely not! This is roughly our route to Attica Woods, or Atticus Woods in some translations.
At the top of the mountain, we found a newly installed open air odeon in the carved out rock valley. Open air concerts are held there in the summer and I think this website has more history of the place going back to ancient mythology.
We hiked up a rocky "goat trail" we saw some locals on behind the theater and discovered a gazebo overlooking Athens.
Here's a closer look at that view. Ocean is at the horizon and the Acropolis is the green smudge on the right.
Hiked back down and stopped at a mountain-top cafe. Look at those red roses on the trellis!
Grabbed a seat on the patio overlooking the hillside and ordered a freddo (iced coffee) with milk and medium sugar.
We also ordered what looked likely to be a meze salad plate off the all-Greek menu. The only words in English were "finger foods." Surprised to receive a plate of grilled shrimp, octopus salad, mussels in tomato sauce, smoked salmon and fried calamari!
All of it was delicious, of course, but I did worry about it being a good meal for a sporty day. It was all downhill on the way back, so no puking up octopus and sweet coffee on the run.