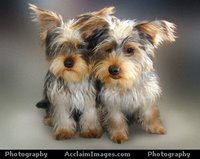 It's official: North Carolina
I heard last night that Jean and Trent are officially moving to North Carolina this fall. It's been so fun living in San Francisco with them and we are sad that they are going to be moving, but overall it's great news.
This news, of course, means that it is time to implement project "Yorkie Replacement." Rob and I have been joking that when Jean and Trent move away we'll get two dogs to serve as their replacements and name them Jean and Trent. These dogs will serve as our new friends and activity companions.
It's also time to start researching what we can do during visits to North Carolina:
Explore the Smokey Mountains – "In Asheville, be sure to go the Biltmore Estate, the largest privately owned home in the United States."
Attend the World Beer Festival – "Over 300 Beers and 130 World-Class Breweries in one place at one time!"
Visit Wing Haven – "Spend a tranquil moment in this bird sanctuary and stroll along the relaxing garden pathways"
Campaign for responsible Hog Waste disposal – "It's time to turn research into reality.""
Smoke indoors – "No requirements for smoke-free areas in state government worksites, private worksites or restaurants."
Visit the Outer Banks – "Don't miss our trademark lighthouses that dot the coastline."
Fun times! Go Tar Heels(?) !