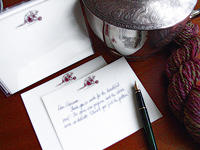 A note about correspondence

Why is it that in this day of high-tech, speed-of-light communication people no longer feel the need to announce major changes in their life?
I recently moved and dutifully sent moving announcements to all my contacts. From this simple announcement I "discovered" all kinds of things had changed. People had moved, gotten married, etc. Most shockingly, a family friend introduced me to his 2-year old daughter for the first time. "Oh, hey, did I mention that I had a baby two years ago?" Doesn't this kind of thing merit an announcement anymore?!
In my book, every major life change requires correspondence. Birth, graduation, moving, engagement, marriage, children and death. A tidy "circle of life" bonded together with postage stamps.