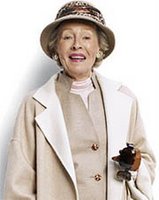 Things I love today: This lady
I love New York Magazine's Look Book column (yes, I also read the Times and the New Yorker and no, I haven't spent more than 80 hours in New York combined, what's it to you). I also love Gawker's Looking at the Look Book feature.
But more than both these things, I love Ruth Chandler Duke. Ruth is featured in this week's column and she is fabulous!