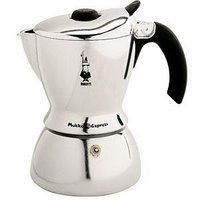 Shopping challenge: Foodie gifts!
What do you get a finicky foodie for Christmas this year? I've got two suggestions for killer presents that will satisfy even the toughest gourmand. Plus, some of these gifts are great for design mavens too:
Bodas Pavina Double Walled Glasses – Beautiful, useful, innovative and affordable! What more could you want from a gift? A set of these glasses is my favorite house warming gift idea.
Bialetti Express Cappucino Maker – A perfect gift for an urban apartment dweller and coffee junky. This sleek and compact stove top cappucino maker is the antithesis of huge and expensive expresso machines.
Bonjour Laser Themometer – For the gearhead you can't do better than a laser themometer. I have no idea what you are supposed to use this for, but I would imagine it delivering hours of entertainment at dinner parties.
Cuisinart Ice Cream Maker – It's the kind of thing you would never buy for yourself and would probably only use once or twice a year…but just think of what you could use it for! All those fancy-schmancy recipes for five-herb ice milk are now within reach.