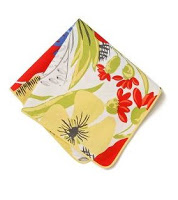 Things I Love Today: Summer Linens
What is it about the start of summer that inspires nostalgic feelings? Nostalgia for things that never even happened. For rhubarb pies you didn't bake, swimming holes that didn't exist and garden parties you never attended. I blame it on the Country Time Lemonade commercials.
That ambiguous nostalgia combined with the fact that I reached a milestone at the gym last night (10d!) has me shopping online for a treat. I think three sets of these napkins from Anthropology might satisfy both cravings.