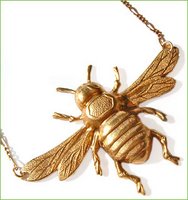 Things I love today: Bee necklace
Maybe it's the spring talking, but I adore this brass bee necklace. Do you love it? Do you love it even more when you find out it's only $28?
It would be perfection for the office when matched with a white collared shirt and green pencil skirt! Thanks to online fashion mag N.E.E.T for the tip!