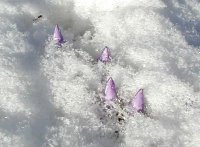 Things I love today: Spring?
As soon as Christmas passes, it seems like the end of winter is already just around the corner. Without poinsettias and holiday shopping, winter is no fun and soon to be ditched.
While the weather outside may not agree, spring has definitely sprung in my opinion. Just last weekend, I bought my first daffodils of the season. Here are some other ways to say hello to spring and sayonara to winter:
Start wearing pink again
Stop wearing all tweed and wool sweater outfits
Start making valentines out of construction paper
Stop hoarding chapstick
Start redecorating and organizing
Stop coveting electric blankets
Start buying fresh asparagus
Stop skipping pedicure appointments
Bring a little spring into your life today! Even if you need to wear your pink sweater under a giant coat for a while!