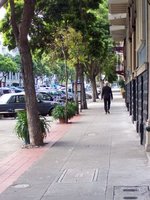 A bit of bar hopping, a four hour work-out, an expensive dress; it has been another San Francisco week for the record books. Here are the lessons I learned this week:
A few days of sun makes a world of difference. The city is so much nicer when it is not raining!
When a new dress hanging up in your closet makes you smile by just looking at it, it was probably a smart purchase.
Cheap Chinese take-out is lovely for a Monday night.
A four hour workout involving yoga, rock climbing and cardio may seem like a good idea…but really, it is overkill. The resulting soreness will make you consider canceling your gym membership immediately.
Lucca's Ravioli alone is a great reason to live in San Francisco.
The Stanyan Park Hotel and Inn 1890 are two good hotel options in my neighborhood for visiting parents.
Sunglasses! Remember those things?
Always accept invitations. Even when you really don't want to go out.
I want to move in to the Macy's downtown now that it is decorated for the Flower Show.
Wear flat shoes when you go to three bars in one night.
Getting a new camera phone is a good thing.
Reading the New Yorker on the bus may cause you to miss your stop by about five blocks.
Rob and I don't have any plans for the weekend at this point. I want to visit Macy's downtown and maybe try this Greek restaurant. Opa! Have a great weekend!