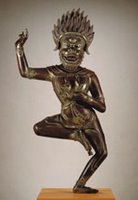 Urban Girl Tip: Rainy day activities
It's supposed to rain tomorrow in San Francisco and generally be pretty miserable outside. In fact, the weather report for tomorrow depicts angry dark clouds with giant yellow lightning bolts…yikes. For a city that loves the outdoors it can be easy to be stumped about rainy day activities. Here's some don't miss plans for Saturday:
International Rubik's Cube Competition – The Exploratorium is already a perfect rainy day activity. Throw in the wild genius of a rubik's cube competition and you simply have to go. I watched this competition last year and, simply put, it is mind blowing. Watch geeks from around the world solve the cube in under 12 seconds.
Flower Market – I'm always a fan of visiting the Conservatory of Flowers in Golden Gate park on a rainy Saturday. But for a free alternative visit the wholesale flower market on Brannan between 10-3:00. Plus, unlike the conservatory, there's ample parking and you can take home the flowers.
Asian Art Museum of San Francisco – This huge museum in the Civic Center is equipped with at least a few hours worth of art, a fantastic gift shop and a delicious cafe. Run a few feet from the subway station in the rain and spend half a day perfect warm, dry and cozy. Plan to arrive right before 11 am or 2pm to catch a free docent-led tour.