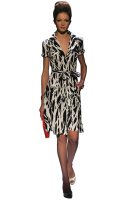 Shopping Challenge: Spring essentials list
I really need to freshen up my wardrobe. After a long winter, my sweaters are looking a little tired and I have become far too attached to turtlenecks. After reading a Lucky Magazine at the gym last night, I realized that I am dressing a bit stodgy lately. Here is my shopping "to-buy" list for the next few weeks:
Spring Dress – So what if I have to wear it with a puffy down jacket for a few months. I am tired of the same ol' skirt/pant combos. Something along these lines.
Shoes – I will force myself to buy a pair of plain black pumps. My current pair is so unattractive.
Colors – I will be banned from buying anything brown this month. My obsession with this color has led to me dress like a UPS spokesperson for the last few months. Think pink!
Tops – I need some cute new spring sweaters and layers to add to the wardrobe. Maybe a striped navy top, a zippered jacket, something violet?
Wedding Outfit – I have until July but I always have such a hard time finding the right outfit for weddings. Ideally, I want a blue and white floral dress that is made of a light fabric but has sleeves. And I need to be able to wear flats with it because this wedding involves "pastures" in a place called "Hayfork."
Bright Accessories – I stocked up on black beads and bangles all winter. Now it is time to go back to Forever 21 and buy a whole new set in bright colors.
PS – Thanks for introducing the size "double-zero," Banana Republic. Unfortunately this more was required by your recent stubborn decision to make size two really fit a six. Next thing you know, I'll have to shop in the "negative sizes" section.