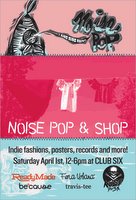 To Do: Become rocker chick
After the Ladies Activity Club party last night, we all headed down to Bottom of the Hill to see Scissors for Lefty perform. This show was part of Noise Pop, San Francisco's annual indie music festival. Check out Noise Pop's awesome review of SFL:
With their full-length debut about to be released on the legendary UK imprint Rough Trade, Scissors For Lefty are poised to be the second recent San Francisco band to capture the elusive imagination of British music fans after Noise Pop 2006 headliners Two Gallants recent triumph across the pond. Two sets of brothers, one Garza and the other Krimmel, their soul-boy falsetto whispers, locked-groove rhythms and cozy guitar work that suggests Johnny Marr's Smiths work characterize Scissors For Lefty's unique dance rock sound.
Anyway…If our friends' band is going to the next big thing in the UK, that means it might be time to step up our the rocker chick attire. Luckily, Feria Urbana is having a Noise Pop N Shop craft fair this weekend. Envision tables full of guitar pick earrings, indie label t-shirts and rockin' posters. Basically every accoutrement that a proper rock chick could ever want!