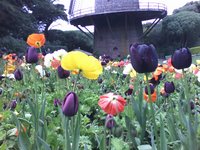 Weekend Round-up: Restaurant bonanza!
With my parents in town for Easter and lots of rain, there was little left to do this weekend but eat out in restaurants. A lot of excellent restaurants! Here's the round-up.
On Friday, we all met at the Stanyan Park Hotel (highly recommended for visiting parents) and took the train to Parnassus to eat at P.J.'s Oyster Bed. Massive consumption of all things exoskeleton. On Saturday morning we walked to the de Young in the misty rain. A lovely breakfast in the cafe, they really do make one of the best lattes in the city, before walking through all but two of the exhibits.
My brother Joe came in from Sacramento and we all met back at the hotel before driving to the Park Chalet on the coast. We shared a huge feast of bloody marys, ahi tartar, Mediterranean pizza, grilled asparagus, steak skewers, macaroni and cheese with black truffles and shoe string onions. So delicious! Back home to nap off all those calories before having a light dinner of a green salad, brie, sourdough bread and a fruit plate at my apartment.
Sunday morning started with a visit to the always lovely Conservatory of Flowers. After which we headed to 16th and Sanchez for a wonderful Easter brunch at Tangerine. I wore my best metallic pink ankle-strap pumps, vintage tweed pencil skirt and pink cashmere sweater with chrysanthemum appliques. My coconut pancakes were to die for and even better when paired with a side of maple and clove smoked bacon. My parents headed home and Rob and crashed out back at the apartment. I think I gained at least five pounds in the last two days!