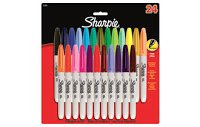 Things I Love Today: Sharpies
As an early birthday present to myself, I bought a 24-pack of Sharpies at Target last weekend. Is there anything in this world quite as nice as a new set of markers?
Like a good rock climber, I promptly "claimed" my new markers with a piece of orange duct tape around the end of each pen. Oh, the funny things Rob has taught me!