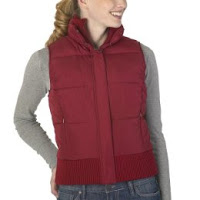 Bargain Finder: Puffy Vest
It feels funny to post about down vests in the middle of a heat wave, but so be it. I've been looking for a puffy vest for a while now. All the options I'd found were too puffy for my skinny arms. I looked like a fun sized candy bar with toothpicks stuck in the sides.
Target's Merona puffer vest is just right. The photo doesn't really do it justice. Not too puffy and with a knit trim for a little extra flair. Plus, only $24.95.
I have the vest in red. My friend, Jill, has it in teal and shares my enthusiasm. Perfect with a pair of jeans and a long sleeved tee for weekend adventures.