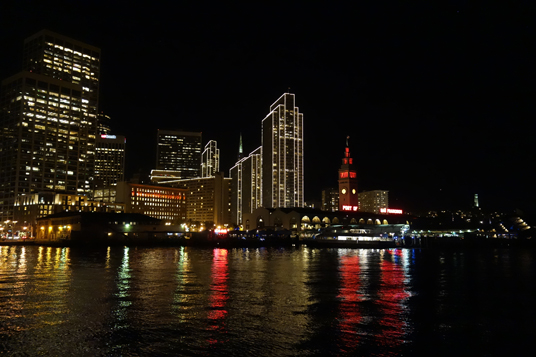 Weekend: It's Beginning to Look alot Like…
The holiday season officially started for us this weekend. It's a family tradition to have a quiet period between Thanksgiving and Christmas…a nice little lull that helps me appreciate the holidays even more.
On Friday, I spent the day volunteering at a local community center with my office. We set up a surprise party for the kids complete with crafts, hot cocoa and cookies. In the afternoon, I came home to rest and prep for our fancy night out. Before the company party, Rob and I met up with a friend to pass off a big bag of toys for donation. It afforded us time for a walk on our old favorite neighborhood pier:
The office party was really lovely. We took over a waterfront hotel and tent with lots of drinks, music and food. I bought a fun (short!) sequined French Connection dress on sale last winter and had been saving it for this occasion.
Rob and I slept in (and slept off the martinis) the next morning. Spent a bit of time cleaning the garage, generally pretty lazy. In the afternoon, Jean and Trent arrived to help us get our Christmas tree from the neighborhood lot.
Rob and I have a routine with our tree: Every year we pick one rather blindly from the stack of trees still wrapped up with twine from the farm. We carry it home on foot, sigh unseen. The jolly ex-cons who work the tree lot as part of an amazing rehabilitation program with Delancey Street have a great time teasing us for being nuts. We get lots of looks on the way:
And the tree always turns out to be amazingly beautiful, and even bigger than the year before's. The reveal happens when the tree is already in the living room stand. Seeing the branches unfold – and drop a massive quantity of needles – is quite a sight!
Our pick this year is a spectacular 9 foot blue spruce that fits the bay window perfectly to the centimeter and smells divine. Jean and Trent helped decorate and also took our Christmas card photo during the process. So cozy! This old victorian house is really made for the holidays:
The four of us went for an early Thai food dinner down the block. After eating, Jean and I baked sugar cookies and made pomanders with of oranges in the kitchen. Played Lego video games until late at night.
Another very quiet morning on Sunday. I'm still fighting off this cold and used the excuse to stay in bed until almost noon reading. Rob and I worked on the Christmas card photo and spent an inordinate amount of time at the camera store having prints made. Lunch of ceviche tostadas from a neighborhood taqueria. Nicole came over in the evening. We walked down to get manicures in the neighborhood. We stopped on the way home to pick up a baguette from the corner cafe. Casual fondue and salad dinner together.
The best news is that the Christmas tree has emerged as an excellent antidote to our apartment's continuing cat pee smell problem. Awesome for December…will be a little harder to display a fresh cut pine in February!