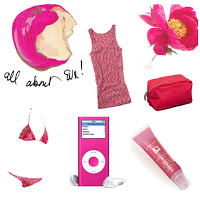 Say what you will about hot pink, but the color is universally flattering. It makes pale people tan and tan people have a natural blush. I don't advise building a wardrobe out of hot pink alone, however it is perfect in small amounts and classic styles. Diane von Furstenberg spotlighted the perfect hot pink in her spring collection.
Tank – Adorable layered with greys and denim.
Bikini – If there ever was a time that necessitated wearing a skin flattering color, bikini season would be it.
Lip Gloss – Brighten up your make-up for spring.
Make-up Bag – From J. Crew.
iPod – It just might be time to upgrade my old gold mini from a few years ago.