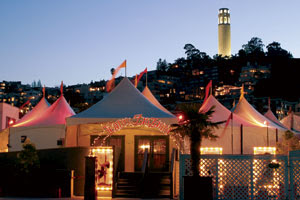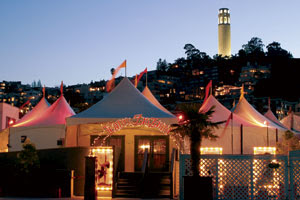 Rob and I were invited to the show at Teatro ZinZanni last night. We've passed these giant tents along pier 29 for a few years, but have ventured inside.
It's definitely a San Francisco experience. Similar to Beach Blanket Babylon but with crazy acrobatics.
I didn't particularly like the first half hour of the show – most clowning around and picking on the audience. However, after that it was amazing. Septegenerian Liliane Montevecchi was the star – a rail-thin, turban-wearing, french-born, singing and dancing sass machine. And the gymnasts were amazing. My favorite was a vaudeville-style tumbling act from a trip of three french acrobats.