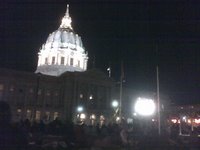 Weekend round-up: Memorable memorial day
I didn't think this city could be more fun that Bay to Breakers last weekend. Boy, was I wrong! Memorial Day weekend was by far the best weekend we've had so far!
Saturday morning, Jean and I went on a shopping extravaganza downtown. Zara, Macy's, Club Monaco, Nordstrom and lunch at Boudin before heading over to Gumps. I seriously love this store! A nice gentleman in the silver department helped me pick out a perfect wedding present. I am an official patron of the Gump's silver wing! As Jean said, I can die happy now!
On Saturday night, Rob and I went to the free simulcast of Madama Butterfly in the Civic Center. The plaza looked beautiful with the capital dome lit up and the trees decorated with red Japanese lanterns. We enjoyed a picnic dinner under the stars and bundled up in sleeping bags and heavy coats. So freezing, so romantic! The opera was magnificent, yet another must-see!
Sunday morning, we headed down to the Mission to watch the Carnival parade. It was so colorful with troops of Peruvians, Colombians, Brazilian, Bolivians, Mexicans, Asians and local schools drumming and dancing. Costumes ranged from the traditional to the risque! During the parade we were interviewed by KTVU, but I didn't see if we made it on the evening news. We spent the rest of the day relaxing at home and cooking a delicious dinner.
Rob treated me to breakfast in bed on Monday morning before heading out to Sausalito on his bike. Our friend Matt, came to pick me up an hour later and we drove over the Golden Gate Bridge to meet him. Altogether we rented two kayaks and paddled around sunny Sausalito for an hour. Once we were done, it was back to the city for fish tacos from Nick's and beer on the roof of Matt's apartment building in Russian Hill. Check out the view! Can you imagine a better place to spend a warm Monday afternoon?
What an amazing weekend! I hope your Memorial Day was as fun and relaxing as mine!