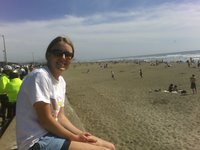 Weekend Round-Up: Vitamin D
I can't get over the fabulous weather we had this weekend. Summer is here! Let's see…what happened this weekend?
On Friday, we had a quiet night at home. I ironed all my linen napkins and watched Mrs. Henderson Presents while waiting for Margaret to arrive. Margaret was flying in from San Luis Obispo to drive up to Molly's bridal shower with me on Saturday. She took BART into the city and we stayed up for a while catching up while watching "Hogan Knows Best."
On Sunday morning, we slept in until 9:00 before getting dressed and heading out to Sacramento for the shower. Quick pit stop in Old Sacramento for some bacon cheese fries before arriving at Molly's Aunt's home in Elk Grove. Her uncle is a landscape architect and the party was held in a lovely back patio by the pool. It was about 95 degrees. I mostly sat very still in the shade while drinking one of my 17 glasses of iced tea. Margaret and I won the toilet paper wedding dress competition! After a quick dip in the pool, we drove over to Nordstrom to get Molly a make-over for the wedding in July. After a big purchase at the MAC counter, she was looking positively bridal. I dropped Margaret off in Davis and arrived home around midnight.
Slept in even later on Sunday morning and woke to a gorgeous, unseasonably warm day in San Francisco. Rob and I went for a walk around our neighborhood and had brunch at the Bagdad Cafe. We sat next to the flower vendor and watched people buying Mother's Day bouquets. We then met up with Jean and Trent on our tandem bike for a ride through Golden Gate Park to Ocean Beach. 99% of the year, Ocean Beach is cold, miserable and deserted. With the hot weather yesterday it looked like Rio! We sat by the beach for about an hour before riding back home, racing a few other tandems along the way. Safeway was full of sunburned San Franciscans. Dinner of too many margaritas, five layer bean dip and panzanella (I'll share the recipe later) before crashing into bed at 10:00!
Notes: Margaret, you left your book at our apartment. Mom, I tried calling last night but you were out with Penney. I'll call tonight! Molly, I just remembered that I left my prize at the shower. Sorry!