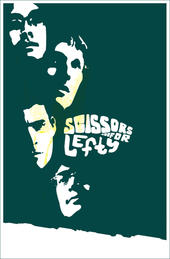 Tonight's the big Scissors for Lefty show at The Independent! Time to get decked out in your best rock show gear.
I always have a hard time picking out what to wear for these shows. I think it has to do with the fact I rarely wear jeans and have a propensity to look more girly than "punk."
Here are some of my picks for going to a rock show:
Tight jeans with knee high boots – This combo is more suited for fall, but I still like it. Tuck my skinny Kenneth Cole jeans into my favorite vintage brown boots and match it with a cute v-neck top.
Low belt – I bought a low suede belt (cuter than this one) from Therapy in San Luis Obispo just for going to SFL shows.
Tunic tee – The perfect thing to go with the belt. I bought this one from Nordstrom last weekend. It would be way cooler if there was something printed on top. Time to go to My Trick Pony.
Flats – Don't wear high heels to rock shows. I know this..yet still it is always an issue. Maybe these shoes would be a good alternative.
Guitar pick earrings – It is a rock show after all! These are pretty cute!
Bangle bracelet – This completes the outfit. Toss on a black headband and you are ready to rock in style.
See you at the show tonight! Don't forget to get there early to hear our other favorite band, The Faraday Effect. Rock on Peter, James, Alex and Julia!