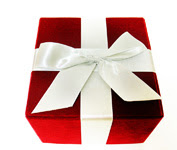 Update: We've passed the $1,000 mark already! Keep it up!
Here's my only request of you this weekend: donate. The holidays are the perfect time to reflect on how fortunate you are and how far even a small donation can go to helping others. I'm pledging to donate $300 this weekend to charities. Will you join me?
I've gathered some charity ideas if you're not sure where to start. When you do donate, I'd love to hear how much you gave. An anonymous comment below will help to keep track of how much we have contributed!
General:
United Way
– Does amazing things for communities around the country.
Red Cross
– Always there when needed the most.
Women & Children:
UNICEF – Donate to help children around the world.
Women for Women – Support women in war-torn areas to support their families, get an education and build communities.
San Francisco:
Glide – This San Francisco charity serves over 1 million meals a year.
San Francisco Parks Trust – Promote green spaces and resources in the city.
Animals:
SPCA – Support your local animal shelter or help bring dogs home from Baghdad.
WWF – Adopt something a little more exotic, like an Emperor Tamarin, and you get a certificate, photo and matching stuffed animal.
Of course, this is just a very short list of the available options. Political groups, medical groups, religious groups, museums, schools, technology groups are all great choices. You can browse Charity Navigator to find the group that is especially close to your heart.
I really hope that EmilyStyle readers will come through in force on this special project!