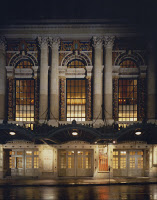 Urban Girl Almanac: Nippy
Brrr. It's a cold day in San Francisco, in the 40's on my walk to work this morning. It really feels like Christmas now. Here's what I've learned this week:
I'd rather never go through a series of business meetings like this week's ever again.
Gordon Biersch has good garlic fries.
When needed, it's important to just let go of all those holiday "to-dos" and relax.
I like shopping at Flax, but it's a little infuriating that the cards and envelopes aren't better organized or matched. It felt a bit like a reality show competition trying to pick out our set.
The fig and tobacco leaf Botanicus candles my hairstylist gave me for Christmas smell nice.
Loving my new Voyager phone.
I'm against this new trend of automatically printed, addressed and drop-shipped holiday cards. There should be some sort of hand-done gesture in there.
30 Rock's brilliant Christmas episode last night made me briefly forget the writer's strike.
Guilty pleasure: methodically chipping off all my nail polish.
I'm copying Nicole Richie's pashmina-around-coat-collar look today.
Hooray for fat babies! My co-worker's son has these glorious creased wrists.
This is holiday party weekend for Rob and me. We've got an office event tonight, two parties tomorrow and another on Sunday. How fun!