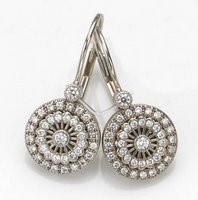 Coveted: Estate diamond earrings
It is dangerous working next to an auction house. You get to watch as truckloads of gorgeous antiques are unloaded and then posted for sale. Sometimes it seems like all the riches in San Francisco are just one paddle away next door. The estate jewelry sales every few months are my favorite.
There are so many gorgeous pieces in the next sale on September 19th. I especially love these drop earrings that are expected to go for about $1,500. So lovely!