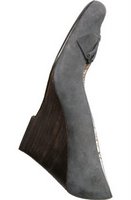 Things I love today: Grey sued wedges
I am midly obsessed with grey suede shoes, especially for this fall. Imagine this pair from Urban Outfitters with some thick opaque tights, a pencil skirt and a chunky sweater!
Not quite convinced? Check out this dramatic photo of the shoes from the back! Ooo la la!