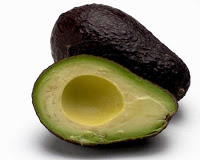 Rob and I had a delicious spring dinner last night! A huge bowl of fresh guacamole with organic corn chips followed by another huge bowl of fresh ripe strawberries. The first strawberries of the year officially kick off spring for me!
I take my guacamole recipe very seriously. As do most SoCal natives. I practically live on avocados during the season, when you can find them for fifty cents or a dollar a piece. This is my basic, ideal recipe:
Guacamole
2 ripe Haas avocados
1 large juicy lime or two smaller limes
1/2 teaspoon of onion salt or more to taste
1/2 teaspoon good quality dark chili powder
1 spoonful of salsa fresca, preferably Santa Barbara brand
Slice the avocados in half and spoon out the insides. Remove the pit with a knife before spooning out the other side. Microwave the whole lime for a few seconds and roll on the counter to release the juice. Squeeze the lime over the avocados before starting to coarsely mash with a fork. Taste the mixture to make sure there is a strong lime flavor. If the avocados are a little too ripe or "bacon-y", use more lime.
Add the onion salt and chili powder and blend. The salt should neutralize the lime a bit. Add salsa and serve immediately. If you want to refrigerate the guacamole for later, press a piece of saran wrap down right on top of the mixture to prevent discoloration. This serves two as a meal or four as an appetizer.
Do you have a secret guacamole recipe? Share it!